Glowing skin is a dream for everyone. You can fulfill that dream by using home remedies. A healthy diet and exercise are good to get clear and glowing skin. In addition, drinking an adequate amount of water also helps to eliminate toxins from the body. These habits really help to get clear and glowing skin. There are some useful home remedies to try for getting glowing skin. Like every natural skincare method, it also shows good results with regular or periodic usage.
EFFECTIVE STEPS TO DO
CLEANSING
STEAMING
EXFOLIATING
FACE

PACK

MOISTURISING
1.CLEANSING
MILK CLEANSER FOR GLOWING SKIN
The first step to get glowing skin is to do cleansing perfectly. Make sure your hand is clean before doing skincare. Take a cotton ball and dip it in some milk. Then squeeze the milk from the cotton ball and rub it against your face for 1 minute. Wash it off with cool water. Raw milk is good to cleanse your skin. The lactic acid present in milk has the ability to remove impurities from your skin that causes pigmentation. Indeed helps to hydrate your skin.
2. STEAMING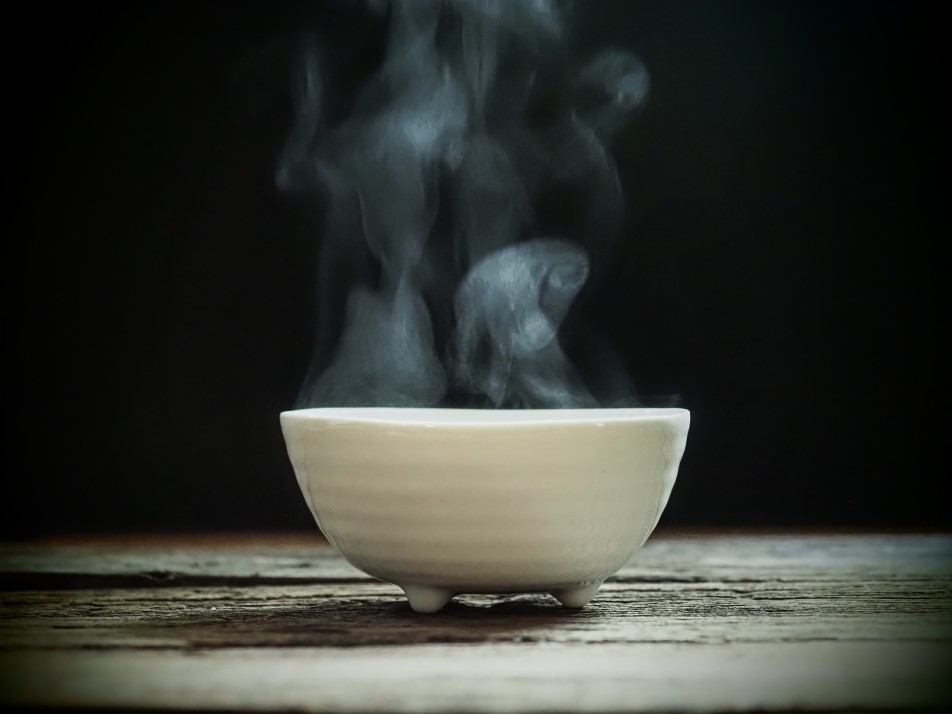 Steaming helps to hydrate skin and increase blood circulation.
The second step after cleansing is steaming. It helps to open pores and loosen the trapped dirt inside the pores. It is a good step to deep cleanse the skin. In addition, steaming helps to boost blood circulation. It also helps to remove trapped sebum. That leads to pimples on the face. Steaming helps to increase the production of elastin and collagen. Thus it is good for getting glowing and youthful skin.
Mievida steam vaporizer and facial steamer
3.EXFOLIATE
Coffee scrub helps to remove dead skin cells.
The next step after steaming is exfoliating. For that take one tablespoon of coffee and honey. Mix it together and apply it to your face. Keep it for 10 minutes and scrub it gently over the face and wash it off with water. Coffee is a good scrub to remove dead skin cells and reduce dark circles. Honey is good for tightening skin and avoid wrinkles on the face. Another benefit of honey is the antibacterial property. This helps to prevent pimples and scars.
mCaffeine combo coffee body scrub, face wash and face scrub
4.FACE PACK
An orange peel face pack is good to give an instant glow.
Orange peel powder face pack is an excellent face pack for giving a glow to your skin. To make an orange peel face pack only two ingredients are needed. Take one tablespoon of orange peel powder and curd. Mix it well and apply it to the face. Keep it for 15 minutes. Give a good massage over your face for five minutes in an upward direction. Then wash it off with plain water. Orange peel powder is rich in Vitamin C. So it helps to lighten the skin tone and brighten your skin. Curd helps to rejuvenate your skin to smooth and supple skin. By using this pack regularly you can make a glow to your face.
Herbalvilla Orange Peel Powder for face skin whitening
5.MOISTURISE
Aloe Vera fights skin aging and moisturizes your skin
For hydrating your skin it is good to use a moisturizer. Use Aloe vera gel, it has moisturizing and antibacterial properties. It helps to get smooth and glowing skin.
HERE ARE 10 HOME REMEDIES TO TREAT PIMPLES?
THINGS TO NOTICE
For getting a good result it is a must to follow the four steps to get glowing skin. It is better to use these methods regularly to get a good result. Do not rub your skin downwards while massaging after applying a face pack. Take care of your skin and feel the happiness.